In the ever-evolving landscape of entertainment, gaming platforms stand as the bedrock of an industry that has continually redefined leisure and innovation. From the humble beginnings of pixelated screens and simple controls to the immersive worlds rendered in stunning realism, gaming platforms have been pivotal in shaping not just entertainment but also technological advancement and societal interaction.
At their core, gaming platforms are more than just consoles or devices; they are gateways to realms unexplored, stories untold, and adventures yet to be embarked upon. These platforms have transcended mere entertainment, becoming cultural touchstones that bridge generations and unite communities worldwide.
In this exploration of the evolution of gaming platforms, we unveil the transformative journey from the pioneering days of arcade machines and early consoles to the cutting-edge technology of today's gaming PCs, consoles like PlayStation and Xbox, and the handheld marvels of mobile gaming. Examining this evolution reveals not just a technological progression but also a narrative of how these platforms have shaped and mirrored our collective desires for escapism, competition, and storytelling.
Join us on this odyssey through time and technology, where each iteration of gaming platforms unveils not just advancements in hardware but also the limitless imagination and creativity of those who build and play upon them.
Early Days of Gaming
In the embryonic stages of gaming, where 8-bit graphics and synthesized bleeps marked the forefront of innovation, classic arcade games and the pioneering home gaming consoles like Atari laid the foundation for an industry that would soon become a global phenomenon.
Arcade Awakenings:
The early days of gaming were synonymous with the neon-lit allure of arcades. Pong, the electronic table tennis simulation, marked the birth of an industry in the early '70s. This simple yet captivating game paved the way for a cascade of titles like Space Invaders, Pac-Man, and Donkey Kong, transforming dimly lit arcades into bustling hubs of social activity. The rhythmic thuds of pinball flippers and the digital melodies emanating from these arcade cabinets became the soundtrack of an era.
Home Gaming Consoles: Atari's Bold Leap:
As the arcade craze surged, the concept of gaming at home took a giant leap with the introduction of the Atari 2600 in 1977. Suddenly, players could bring the thrill of the arcade into their living rooms. The joystick became a portal to adventure, and the pixelated landscapes of games like Space Invaders and Asteroids captured the imaginations of a burgeoning generation of gamers.
Limitations and Charm:
Yet, these early gaming platforms were not without their constraints. Graphics were rudimentary by today's standards, consisting of blocky sprites and a limited color palette. Sound was often a symphony of beeps and blips. The Atari 2600, for example, could only display a handful of sprites on screen at once, and game cartridges had a finite capacity for data.
Despite these limitations, the simplicity of early gaming platforms had a charm of its own. The constraints fostered creativity, as developers pushed the boundaries of what was possible with the available technology. Each bleep and blop, each jagged pixel, was a testament to the nascent art form of digital entertainment.
In tracing the roots of gaming, one finds not just the humble beginnings of an industry but also the seeds of innovation that would grow into the diverse and technologically sophisticated gaming landscape we know today. The early platforms may have been simple, but their impact was profound, laying the groundwork for a medium that continues to captivate and inspire.
The Console Wars: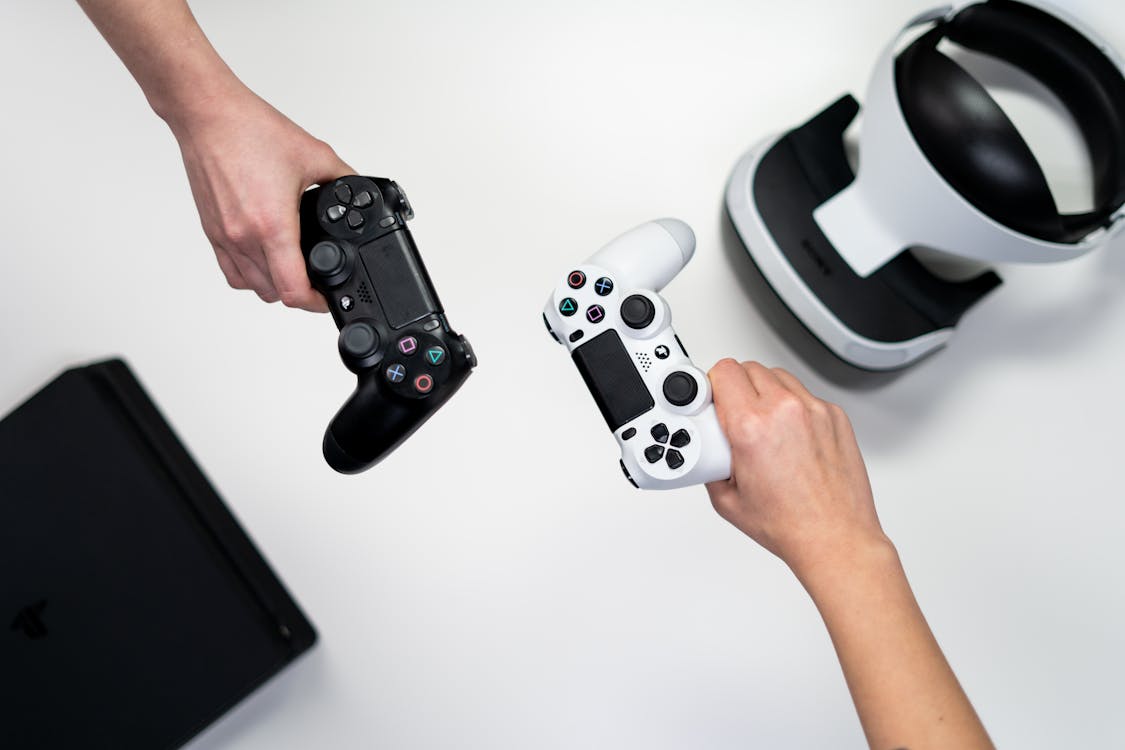 The 'Console Wars' of the late '80s and early '90s marked a pivotal chapter in the gaming industry's history, characterized by fierce competition, groundbreaking innovations, and a battle for the hearts and minds of players. One of the most iconic rivalries during this era was between Nintendo and Sega, two gaming giants that clashed in an epic struggle for dominance.
Nintendo's Reign and the Birth of Sega:
Nintendo had already established itself as a dominant force with the release of the Nintendo Entertainment System (NES) in the mid-'80s, introducing iconic franchises like Super Mario Bros. and The Legend of Zelda. However, in 1989, Sega entered the fray with the Sega Genesis (Mega Drive outside of North America), challenging Nintendo's supremacy.
Sonic vs. Mario: The Mascot Battle:
The 'Console Wars' became synonymous with the battle of mascots—Nintendo's Mario and Sega's Sonic the Hedgehog. Sonic, with his attitude and blistering speed, became the face of Sega's aggressive marketing strategy to position the Genesis as the cooler, more edgy alternative to the family-friendly image of Nintendo.
Innovations Galore:
To gain the upper hand, both Nintendo and Sega engaged in a relentless cycle of innovation. Sega introduced the concept of blast processing, emphasizing the speed and power of the Genesis. Nintendo responded with the Super Nintendo Entertainment System (SNES), which boasted superior graphics and sound capabilities.
The introduction of peripherals and accessories further fueled the competition. Sega's Sonic & Knuckles allowed players to attach other Sonic games, creating a unique gaming experience. Nintendo countered with the Super Game Boy, enabling players to enjoy Game Boy titles on their television screens.
The Emergence of the ESRB:
As the intensity of the 'Console Wars' led to more mature and graphic content in games, concerns arose about the potential impact on younger audiences. This ultimately led to the creation of the Entertainment Software Rating Board (ESRB) in 1994, a response to the need for standardized content ratings on video games.
Legacy and Industry Impact:
The 'Console Wars' not only shaped the gaming industry but also defined the gaming experience for an entire generation. The competition between Nintendo and Sega resulted in rapid technological advancements, improved game design, and a broader variety of gaming genres. It set the stage for the modern console landscape, establishing the template for future clashes between gaming giants.
In retrospect, the 'Console Wars' were not just about hardware and software; they were a cultural phenomenon that left an indelible mark on the gaming community. The lessons learned from this era continue to influence the strategies of contemporary console manufacturers, ensuring that the spirit of competition and innovation endures in the ever-evolving world of gaming.
The Advent of Personal Computers:
The advent of personal computers (PCs) in the gaming landscape heralded a transformative era, expanding the possibilities of interactive entertainment beyond the confines of dedicated gaming consoles. The convergence of computing power and gaming creativity marked a paradigm shift that shaped the industry and influenced the gaming experiences of millions.
The Birth of PC Gaming:
In the 1980s and 1990s, personal computers began to emerge as viable platforms for gaming. Early systems like the Commodore 64 and IBM PC opened up new avenues for game development and distribution. As more households adopted PCs, gaming found a home in offices and living rooms, broadening its reach and audience.
Iconic Games and Genres:
Landmark moments in PC gaming history are often intertwined with the release of iconic games that set new standards for storytelling, gameplay, and graphics. Games like "Doom" (1993) and "Quake" (1996) pioneered the first-person shooter genre, introducing players to immersive 3D environments and multiplayer experiences. "Civilization" (1991) and "SimCity" (1989) revolutionized strategy gaming, offering expansive worlds for players to build and manage.
Graphics Technology Evolution:
The development of graphics technology played a pivotal role in shaping the PC gaming experience. The transition from 2D to 3D graphics marked a turning point, with hardware acceleration cards like the Voodoo series enhancing visual fidelity. The race for better graphics capabilities spurred innovation, with companies such as NVIDIA and ATI pushing the boundaries of realism in games.
Modding and Community Innovation:
PC gaming fostered a culture of modding and user-generated content. Games like "Half-Life" (1998) not only delivered immersive narratives but also provided tools for players to create their own content. This culture of modding gave rise to influential game modifications, such as "Counter-Strike" and "Team Fortress," which eventually became standalone games in their own right.
Digital Distribution and Indie Renaissance:
The rise of the internet facilitated digital distribution platforms like Steam, GOG, and others, transforming how games were bought and played. This shift allowed independent developers to reach global audiences without the need for traditional publishing channels, sparking an indie renaissance. Games like "Braid," "Limbo," and "Undertale" showcased the diversity and innovation possible within the indie gaming scene.
E-Sports and Online Multiplayer:
PC gaming also played a crucial role in the evolution of competitive gaming. The rise of e-sports, with titles like "StarCraft," "Counter-Strike," and "League of Legends," turned competitive gaming into a global phenomenon, attracting massive audiences and establishing professional gaming leagues.
In retrospect, the impact of personal computers on gaming is nothing short of revolutionary. From the early days of text-based adventures to the sophisticated virtual worlds of today, PCs have been a driving force in shaping the diverse, dynamic, and ever-expanding landscape of interactive entertainment. The legacy of PC gaming continues to influence the industry, ensuring that the spirit of innovation and creativity thrives in the digital realms of gaming.
Rise of 3D Graphics and CD-ROMs:
In the mid-1990s, the gaming industry underwent a seismic shift as advancements in technology ushered in the era of 3D graphics and the widespread adoption of CD-ROMs. This transformative period not only elevated the visual fidelity of games but also expanded the scope of storytelling and player immersion, forever altering the landscape of interactive entertainment.
Transition to 3D Graphics:
The transition from 2D to 3D graphics was a watershed moment in gaming history. This shift, made possible by more powerful hardware, allowed developers to create immersive, lifelike worlds that broke free from the constraints of flat planes. Games like "Super Mario 64" (1996) and "Tomb Raider" (1996) showcased the newfound freedom of movement and exploration that 3D environments offered, revolutionizing game design and player experiences.
The Role of CD-ROMs:
Simultaneously, the adoption of CD-ROM technology played a pivotal role in expanding the storage capacity of game media. CD-ROMs not only facilitated the inclusion of full-motion video, voice acting, and expansive soundtracks but also allowed for larger and more complex game worlds. This shift from cartridges to CD-ROMs marked a departure from the limitations of the past, enabling developers to craft more cinematic and narrative-driven gaming experiences.
Influence on Game Design:
The advent of 3D graphics and CD-ROMs significantly influenced game design. Developers now had the canvas to create more intricate and detailed environments, fostering a greater sense of immersion. Games began to incorporate cinematic storytelling elements, blurring the line between interactive and passive entertainment. Titles like "Final Fantasy VII" (1997) demonstrated how narrative depth and emotional engagement could be achieved through the marriage of 3D graphics and CD-ROM technology.
Player Experiences Redefined:
The shift to 3D graphics and CD-ROMs fundamentally altered the way players experienced games. The added dimensionality brought virtual worlds to life, providing a sense of scale and depth previously unattainable. Exploring vast landscapes, navigating complex mazes, and engaging in epic battles became more captivating and realistic.
Introduction of Online Gaming:
As technology continued its relentless march forward, the late 1990s and early 2000s witnessed the dawn of online gaming. The proliferation of high-speed internet connections brought with it a new era of connected experiences, transforming solitary gaming sessions into communal endeavors.
The Multiplayer Revolution:
Online gaming marked a departure from the traditional single-player experience, introducing players to a vast, interconnected world where they could compete or collaborate with others in real-time. Games like "Quake" (1996) and "StarCraft" (1998) pioneered online multiplayer, laying the groundwork for the competitive landscape and e-sports culture that would follow.
Massively Multiplayer Online Games (MMOs):
The rise of high-speed internet also paved the way for the emergence of Massively Multiplayer Online Games (MMOs). Titles like "World of Warcraft" (2004) transported players to persistent, expansive virtual worlds, fostering social interactions, guilds, and a sense of shared adventure on an unprecedented scale.
Social Connectivity and Voice Chat:
Online gaming not only redefined how games were played but also how players communicated. The integration of voice chat and messaging systems facilitated real-time interaction, turning gaming sessions into social experiences that transcended geographical boundaries.
In conclusion, the rise of 3D graphics, CD-ROMs, and online gaming marked a technological and cultural turning point in the history of interactive entertainment. These advancements not only elevated the visual and narrative aspects of games but also transformed gaming into a social and interconnected experience, setting the stage for the diverse and interconnected gaming landscape we know today.
Introduction of Online Gaming: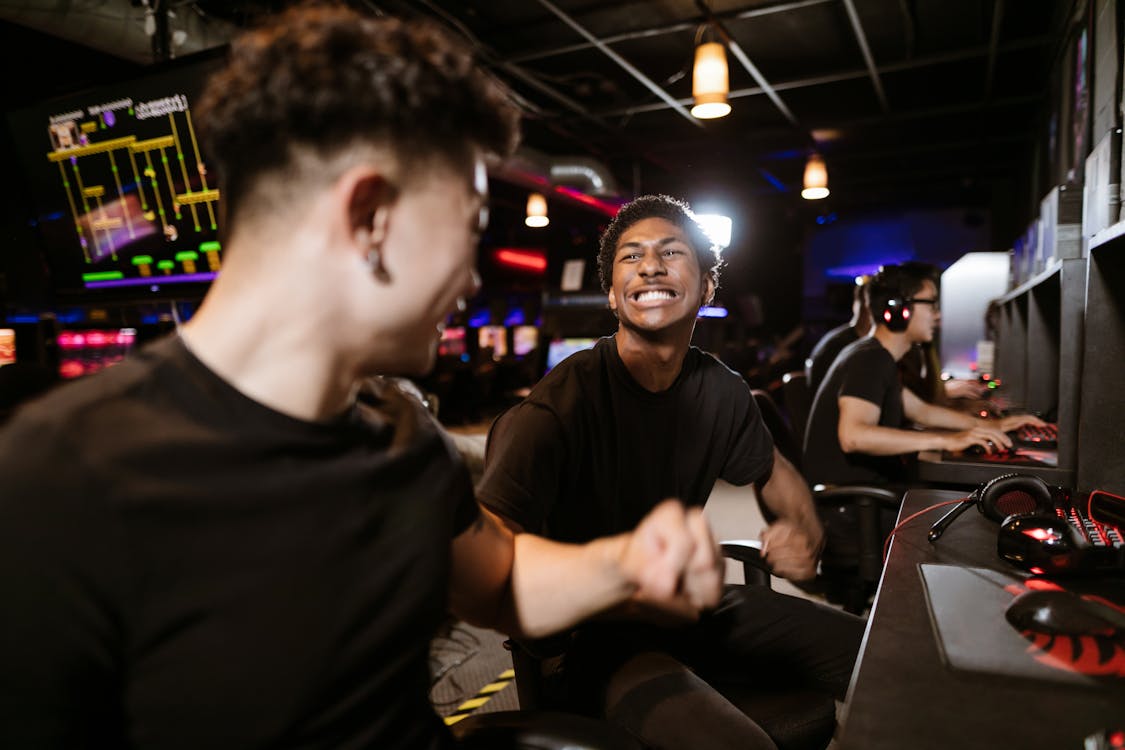 In the ever-evolving tapestry of the gaming world, the emergence of online gaming stands as a transformative chapter, reshaping how players engage with virtual realms and interact with one another. The transition from isolated single-player experiences to the dynamic landscapes of multiplayer online gaming has not only revolutionized gameplay mechanics but has also given rise to an interconnected global community of gamers. This journey into the virtual frontier has been guided by the evolution of early online platforms, laying the foundation for the social gaming phenomena that define contemporary gaming culture.
The Dawn of Multiplayer Experiences:
In the early days of gaming, the notion of connecting with others in real-time within a virtual space was a distant dream. However, as technology advanced, so too did the desire for more dynamic and social gaming experiences. The introduction of local multiplayer modes in arcade games and home consoles provided a glimpse into the potential for shared adventures. It was a prelude to the revolutionary concept of connecting players across geographical distances.
Early Online Platforms:
The late 20th century witnessed the birth of early online gaming platforms that laid the groundwork for the interconnected future of gaming. Services like SegaNet, launched in the mid-'90s for the Sega Saturn, and the advent of online capabilities in personal computers through services like TEN (Total Entertainment Network) and MPlayer marked the initial steps towards a global multiplayer community.
The Impact on Social Gaming:
The advent of online gaming brought about a paradigm shift in the social dynamics of gaming. No longer confined to local split-screen multiplayer or LAN parties, players could now engage in epic quests, strategic battles, and cooperative missions with friends and adversaries alike, irrespective of physical proximity. This shift from solitary gaming experiences to shared adventures fundamentally altered the perception of gaming from a solitary pastime to a vibrant social activity.
Community Building and Guilds:
Early online platforms facilitated the creation of virtual communities and guilds, fostering a sense of camaraderie among players. Titles like "EverQuest" (1999) and "Ultima Online" (1997) allowed gamers to form alliances, embark on quests together, and establish digital identities that transcended the confines of the game itself. These virtual societies became integral to the online gaming experience, laying the foundation for the robust social ecosystems seen in modern online multiplayer games.
Challenges and Opportunities:
The transition to online gaming was not without its challenges. Technical limitations, such as slow internet speeds and unreliable connections, initially hampered the seamless experience players enjoy today. However, these hurdles spurred technological advancements, leading to the development of more sophisticated online infrastructures and paving the way for the expansive, seamless online gaming experiences of the present.
In retrospect, the introduction of online gaming was a watershed moment, breaking down the walls between players and ushering in an era where virtual worlds became social canvases. The early online platforms were the architects of a global gaming community, fostering connections that transcended borders and time zones. As we delve deeper into the online realms of gaming, we uncover not just an evolution in technology but a revolution in the very fabric of how we play and share our gaming experiences.
Console Innovations: PlayStation, Xbox, and Beyond:
Console Innovations: PlayStation, Xbox, and Beyond:
The evolution of gaming consoles has been a dynamic journey, marked by technological advancements, fierce competition, and the constant pursuit of delivering unparalleled gaming experiences. Key players in this narrative, such as PlayStation and Xbox, have not only pushed the boundaries of hardware capabilities but have also strategically leveraged exclusive titles to define their platforms and captivate audiences. Let's delve into the milestones and innovations that have shaped the console landscape.
PlayStation's Rise to Dominance:
PlayStation (1994): Sony's foray into the gaming industry marked a turning point. The PlayStation console introduced the CD-ROM format, significantly expanding storage capacity and enabling immersive full-motion video. Iconic titles like "Final Fantasy VII" showcased the potential for narrative depth and cinematic experiences in gaming.
PlayStation 2 (2000): The PS2 became a cultural phenomenon, boasting DVD playback capabilities and introducing the DualShock 2 controller. With a vast library of games and backward compatibility, the PS2 remains one of the best-selling consoles of all time.
PlayStation 3 (2006): Sony ventured into the realm of high-definition gaming, introducing the Blu-ray disc format. The Cell Broadband Engine provided unprecedented processing power. Exclusive titles like "Uncharted" and "The Last of Us" showcased the console's graphical prowess.
Xbox's Entry and Technological Innovations:
Xbox (2001): Microsoft's entry into the console market introduced the concept of Xbox Live, laying the foundation for online multiplayer gaming on consoles. The controller's design and the robust hardware set a standard for future iterations.
Xbox 360 (2005): The Xbox 360 brought HD gaming to the forefront and refined online gaming with Xbox Live. Kinect, a motion-sensing peripheral, further diversified gaming experiences. Exclusive titles like "Halo" and "Gears of War" established the Xbox brand.
Xbox One (2013): Microsoft integrated multimedia capabilities, making the Xbox One a central hub for entertainment. The inclusion of Kinect and cloud gaming marked attempts to innovate beyond traditional gaming experiences.
Advancements in Hardware and Multimedia:
Nintendo's Contributions: While Sony and Microsoft focused on cutting-edge graphics and multimedia capabilities, Nintendo took a different approach. The Wii (2006) introduced motion controls, expanding the gaming demographic. The Nintendo Switch (2017) continued this trend with its hybrid design, seamlessly transitioning between home console and portable handheld.
PlayStation 4 (2013) and PlayStation 5 (2020): Sony's PS4 emphasized social connectivity, streaming services, and VR. The PS5 continued this trajectory with a blazing-fast SSD, ray tracing, and a new controller design (DualSense) that added tactile feedback and adaptive triggers.
Xbox Series X and Series S (2020): Microsoft's latest consoles introduced powerful hardware, emphasizing backward compatibility and the Xbox Game Pass subscription service. The Series X, with its high-performance capabilities, aimed to deliver a next-gen gaming experience.
The Role of Exclusive Titles:
Exclusive titles have been instrumental in defining the identity of gaming consoles:
PlayStation Exclusives: Franchises like "God of War," "Horizon Zero Dawn," and "Spider-Man" have become synonymous with the PlayStation brand, enticing players with unique gaming experiences.
Xbox Exclusives: "Halo," "Gears of War," and "Forza Motorsport" are flagship franchises that have bolstered the Xbox ecosystem, offering compelling reasons for players to choose Microsoft's platform.
Future Horizons:
As we look to the future, the gaming console landscape continues to evolve. The role of cloud gaming, virtual reality, and a focus on sustainable gaming practices are emerging as key considerations for the next wave of innovations. The competition between PlayStation, Xbox, and other players ensures that the gaming community can anticipate even more groundbreaking developments in the years to come.
The Boom of Mobile Gaming:
The Boom of Mobile Gaming:
In the past two decades, the world of gaming has undergone a seismic transformation, and at the heart of this revolution is the rise of mobile gaming. With the advent of smartphones and tablets, the gaming landscape expanded exponentially, reaching new audiences, blurring traditional boundaries, and transforming short, fragmented moments of downtime into immersive gaming experiences. Let's delve into the key factors that fueled the boom of mobile gaming.
The Advent of Smartphones and Tablets:
Early Mobile Games: The first mobile games emerged on feature phones, offering simple titles like "Snake" and "Tetris." However, the real game-changer came with the arrival of smartphones and tablets. The launch of the iPhone in 2007 and subsequent Android devices paved the way for a new era in mobile gaming.
Touchscreen Revolution: The touchscreen interface fundamentally altered how players interacted with games. Intuitive controls and gestures became the norm, making gaming accessible to individuals of all ages, regardless of prior gaming experience.
Impact of App Stores:
Apple App Store (2008): The introduction of the Apple App Store revolutionized the distribution of mobile games. Developers now had a centralized platform to showcase and distribute their creations. This democratization of game distribution opened the floodgates for a diverse range of titles.
Google Play (2012): Google Play followed suit, providing an Android ecosystem for developers to reach a global audience. The sheer volume of available games exploded, creating a vibrant marketplace for both casual and hardcore gamers.
Accessibility and Demographic Shift:
Casual Gaming for Everyone: The simplicity and accessibility of mobile games attracted a vast demographic. Casual games like "Angry Birds" and "Candy Crush" became cultural phenomena, enjoyed by people who had never considered themselves gamers before.
Gaming on the Go: Mobile gaming's defining characteristic is its portability. Commuters, travelers, and individuals on the go found solace in mobile games, turning mundane moments into opportunities for entertainment.
Expanding Demographics: Mobile gaming reached demographics that traditional gaming had struggled to tap into, including older adults and a significant female audience. The diversity of gaming experiences available catered to a broad spectrum of interests and preferences.
Monetization Models:
Freemium and In-App Purchases: The freemium model, offering free games with optional in-app purchases, became prevalent. This allowed developers to reach a massive user base while offering players the flexibility to spend money based on their engagement and preferences.
Ad-based Revenue: Ad-supported games emerged as another revenue model. Players could access games for free while developers generated income through targeted advertising.
Challenges and Future Prospects:
Quality and Diversity: The sheer volume of mobile games led to concerns about quality control. However, this also spurred developers to create innovative, high-quality games to stand out in a crowded market.
Emerging Technologies: The integration of augmented reality (AR) and virtual reality (VR) in mobile gaming hints at the potential for even more immersive experiences. Games like "Pokémon GO" showcased the possibilities of blending real-world environments with virtual elements.
In conclusion, the boom of mobile gaming has reshaped the gaming industry, making interactive entertainment more accessible and inclusive than ever before. The combination of powerful smartphones, app stores, and innovative monetization models has transformed mobile devices into gaming powerhouses, ensuring that the influence of mobile gaming will continue to shape the future of interactive entertainment.
The Future of Gaming Platforms: Navigating the Next Frontier
The Future of Gaming Platforms: Navigating the Next Frontier
As we stand on the precipice of a new era in gaming, the industry is poised for a transformative journey into uncharted territories. Emerging technologies promise to redefine not only how we play but also the very nature of interactive entertainment. Let's delve into potential future trends in gaming platforms, contemplating the impacts of cloud gaming, virtual reality (VR), augmented reality (AR), and other cutting-edge advancements.
1. Cloud Gaming: A Revolution in Accessibility
Streaming Services Take Center Stage: The rise of cloud gaming services, such as Google Stadia, Microsoft xCloud, and NVIDIA GeForce Now, hints at a future where players can enjoy high-end gaming experiences without the need for expensive hardware. As internet infrastructure continues to improve, streaming games directly to devices could become commonplace, democratizing access to cutting-edge gaming experiences.
Cross-Platform Gaming: Cloud gaming has the potential to dissolve the barriers between different gaming platforms. Players may seamlessly transition from their console to a mobile device or a smart TV, fostering a more interconnected gaming ecosystem.
2. Virtual Reality (VR): Immersive Realms Unveiled
Mainstream VR Adoption: The ongoing refinement of VR technology, exemplified by devices like the Oculus Quest, suggests that virtual reality is inching closer to mainstream adoption. As hardware becomes more affordable, lighter, and more comfortable, VR could become a staple in households, offering immersive experiences beyond gaming.
Social VR Spaces: Future VR platforms may evolve into social spaces where players not only interact through avatars in virtual worlds but also attend events, concerts, and gatherings. VR could redefine the very nature of socializing and community building within the gaming landscape.
3. Augmented Reality (AR): Blurring Boundaries between Real and Virtual
Integration with Everyday Life: The success of AR games like "Pokémon GO" foreshadows a future where augmented reality seamlessly integrates with our daily lives. AR glasses and headsets might overlay game elements onto the physical world, creating dynamic, interactive experiences in real-time.
Enhanced Storytelling: AR could revolutionize narrative experiences by blending digital storytelling with the real environment. Imagine a crime-solving game where clues appear in your living room or an adventure unfolding in your neighborhood, blurring the lines between fiction and reality.
4. Integration of Artificial Intelligence (AI): Elevating Gaming Experiences
Dynamic NPCs and Storylines: The integration of AI in gaming platforms could lead to more dynamic and responsive non-player characters (NPCs) and storylines. Games might adapt in real-time based on a player's choices, creating personalized and immersive experiences.
AI-driven Procedural Content Generation: AI could play a pivotal role in generating vast, procedurally generated game worlds. This could result in endless possibilities for exploration, ensuring that each gaming session is unique.
5. Sustainable Gaming Practices: An Ethical Imperative
Green Gaming Initiatives: As environmental concerns become increasingly prominent, the gaming industry might witness a shift towards sustainable practices. This could include eco-friendly hardware designs, energy-efficient data centers for cloud gaming, and initiatives to reduce the carbon footprint of gaming.
Ethical Game Development: There may be a heightened focus on ethical game development, addressing concerns related to inclusivity, diversity, and the impact of game content on mental health. Game developers might actively strive to create games that foster positive social interactions and well-being.
In conclusion, the future of gaming platforms is an exciting tapestry woven with the threads of innovation and imagination. Cloud gaming, virtual reality, augmented reality, and the integration of artificial intelligence all stand as pillars that could reshape how we perceive, interact with, and derive enjoyment from games. As we embark on this journey, the only certainty is that the landscape of gaming platforms will continue to evolve, creating experiences that push the boundaries of our collective imagination.
Conclusion: The Ever-Evolving Odyssey of Gaming Platforms
The evolution of gaming platforms is a captivating saga, weaving through decades of technological innovation, cultural shifts, and the unwavering passion of gamers worldwide. From the humble beginnings of arcade machines and early home consoles to the expansive realms of cloud gaming, virtual reality, and beyond, the trajectory of gaming platforms reflects an intricate dance between creativity and technology. Let's distill the key points that define this remarkable journey.
1. Arcades and Early Consoles:
The dawn of gaming witnessed the rise of arcades, introducing players to pixelated wonders like "Pong" and "Space Invaders."
Home consoles like Atari brought the arcade experience to living rooms, laying the foundation for the gaming industry.
2. Console Wars and Technological Innovation:
The 'Console Wars' between Nintendo and Sega fueled a period of intense competition and technological innovation.
Advancements like 3D graphics, CD-ROMs, and online multiplayer reshaped gaming experiences and narratives.
3. The Emergence of Personal Computers:
Personal computers played a crucial role in expanding gaming beyond consoles.
Landmark moments, including the transition to 3D graphics and the rise of online multiplayer, defined the PC gaming landscape.
4. The Rise of Mobile Gaming:
Smartphones and tablets democratized gaming, making it accessible to a diverse audience.
App stores and casual gaming experiences, like "Angry Birds" and "Candy Crush," became cultural phenomena.
5. The Dynamic Duo: PlayStation and Xbox:
PlayStation and Xbox emerged as gaming powerhouses, each leaving an indelible mark on the industry.
Exclusive titles, technological advancements, and online gaming defined the identities of these iconic platforms.
6. The Future Beckons:
Cloud gaming, virtual reality, and augmented reality offer glimpses into the next frontier of gaming.
Artificial intelligence, sustainable practices, and ethical game development are poised to shape the industry's future.
Conclusion: A Dynamic Tapestry of Possibilities
As we reflect on the evolution of gaming platforms, it becomes evident that the gaming industry is a living, breathing entity, in a perpetual state of reinvention. What began as blips and beeps in arcades has evolved into an expansive universe of interconnected experiences, blurring the lines between reality and virtuality.
The dynamic nature of the gaming industry lies not only in technological advancements but in the community it fosters, the stories it tells, and the emotions it elicits. The industry's continual evolution is propelled by the unyielding spirit of innovation and the insatiable curiosity of both creators and players.
As we gaze into the future, the horizon is painted with promises of new technologies, unforeseen narratives, and gaming experiences that transcend the boundaries of imagination. The odyssey of gaming platforms is an eternal quest, where each level conquered, each console released, and each innovation embraced adds a new chapter to this ever-unfolding epic. It is a testament to the resilience, adaptability, and boundless potential of an industry that thrives on the shared joy of play and the ceaseless pursuit of what lies beyond the next loading screen.